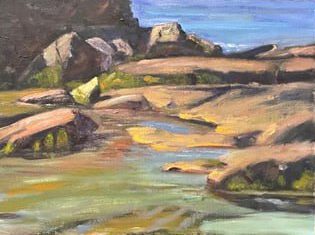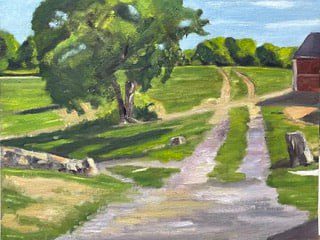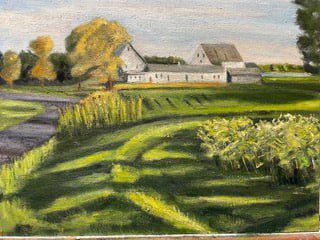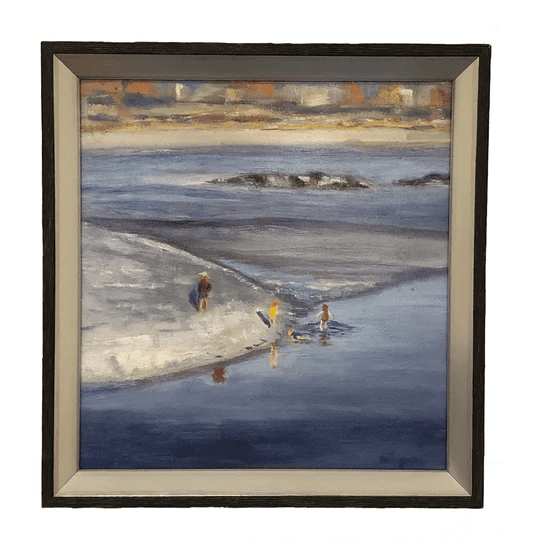 I look for things that come from everyday occurrences or views of the world around me to paint, that are important and interesting to me, and hopefully, people find them interesting to look at as well. I also look for challenges that require a "push' technically or design-wise. I am a strong believer in the Holy Trinity of Design, Drawing, and Values in my painting. My goals are to continue to develop my drawing and painting skills, and driven more or less artistically by the notion that our painting pays homage to our drawing and to quote Charles Hawthorne "the mechanics of putting one spot of color next to another __the fundamental thing."
I always look forward to either getting out in nature and painting or working in the studio to start and paint a still life, or improving on a painting that was started outside and needs refinement to be properly finished. I feel incredibly lucky to have the robust community of artists around me here in the seacoast, and would like to make note of the terrific influences and help that artists like Todd Bonita, Frank Hyer, Alistair Dacey, Karen Blackwood and Tom Hughes have had on my efforts to be a serviceable artist. I am humbled by their own works and in debt to them for their time and insights whenever I have asked for help or thoughts on my work.
Charlie Wemyss first received training in drawing, oil and water color painting from Mark Potter who was his primary instructor for four years in High School. The painting and drawing took a long hiatus for 40 years.
In the spring of 2018 he began to study and take his painting and drawing under the supervision of professional artist Sam Vokey, the course of instruction has been based on the tenants of the Boston School of Impressionist painting. Focus on draftsmanship, design of a work and values influencing the whole work that is being painted or drawn has been empathized over the last several years.
Charlie's principal work is Plien Air and heavily influenced by "The Ten" of the Boston School of Impressionist painters. In addition to the Plien Air work he is using his studio to create still life paintings and cast drawings, and refine many of the Plein Air works. The various scenes of life, work, recreation are all subjects of his work.